BETON STEEL JOINTS
Easy installation and flexibility
Features:
Manufactured with high quality cold drawn steel suitable for free-movement areas
Also available in galvanized steel, which ensures steel corrosion resistance and adds aesthetic values
Dowels plates attached with Beton Steel Joints for efficient and safe transferring of the load between two adjacent concrete slabs
Prevents vertical movement in concrete contraction situations
Made in various sizes and used for various projects
Design: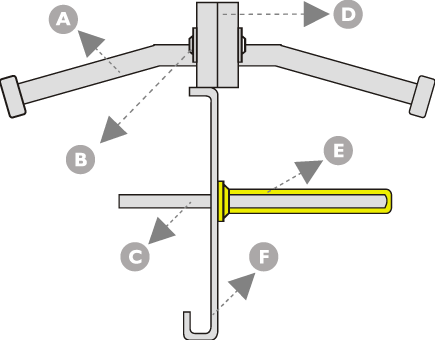 A. 100 X 10 mm Shear Stud for anchorage into concrete
B. Fastening system for temporary holding of the steel during concrete placement
C. Unique Dowel system, made with high grade 355N/mm² steel, in various types and designs
D. 40 x 10 mm, Top plates, with high quality cold drawn steel. Also available in galvanized condition
E. Plastic sleeve to release dowel into concrete
F. Cold Rolled steel plate with various heights
Specifications
Beton Steel Joint Weight/3meter:
Dowels Thickness
No of Dowels /3m
BETON STEEL JOINT SIZE
100
120
140
160
180
200
220
240
8 mm
5
32
33
34
35
36
37
38
39
12 mm
5
35.5
36.5
37.5
38.5
39.5
40.5
41.5
42.5
8 mm
7
34.5
35.5
36.5
37.5
38.5
39.5
40.5
41.5
12 mm
7
39.5
40.5
41.5
42.5
43.5
44.5
45.5
46.5
#Other Customized Steel Joints can be manufactured upon request
DOWELS:
Dowels are the most integral part of a steel joint
Unique design made with high Grade 355N/mm² steel for superior load transfer
Provides maximum 30 mm joint opening
Standard Dowels available in 8mm and 12mm thickness
Dowels can be provided as per customer requirement
Height Fixing Jack:
Precision height adjustment jack is available which works with all types of Beton Steel Joints
Junctions:
Applications:
Suitable for various internal as well as external applications
Ideal for internal and heavy applications in industrial buildings and waste transfer stations
Suitable for areas where there is free movement
Compatible with most vehicle types
Suitable for larger joint openings, up to 30mm
Contact us for inquiries, suggestions or any other information.